As Thanksgiving day comes to a close, our church begins to focus on the seasons of Advent and Christmas. For most folks this is a very busy time of year, with the Christmas preparation: Decorating, Christmas cards, shopping, wrapping, cleaning,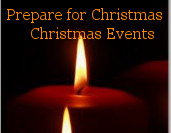 and cooking. In the busyness of the season it's easy to lose track of the true meaning of this blessed season. 
         At Good Shepherd our hope is to help you rediscover the true  meaning of Christmas. During the four weeks of preparation known as Advent we shall be looking at the special Christmas gifts God seeks to offer us: Hope, Peace, Joy, and Love.

We shall remember the Christ who came long ago. The Jesus who comes to us today as Emmanuel ( God with us) and the Christ whose advent is yet to take place. Come and join us each Sunday at 10:30 am. 
Special Services :
** Worship with us Sundays at 10:30 am to sing praises, pray for one another and hear the stories of the season.
** Christmas Eve Alchothon with AA meetings all night starting at 6 pm
** Christmas Eve December 24th 7 pm Celebrate with candlelight, Carols and Communion.
** Christmas Day Worship 10:30 am.
All events are free and are open to EVERYONE







by


by